In honor of February being Black History Month, we look at some of the successes and the challenges faced by Black-owned businesses, firms, and support groups
In the Summer of 2020, the 50 largest U.S. public companies pledged $49.5 billion to address systemic racism. However, according to news reports this effort has fallen short.
Based on data from 44 of the 50 companies, $45.2 billion —more than 90% percent of the total — is being allocated as loans or investments with JP Morgan and Bank of America accounting for the vast majority of the activity. Overall, as of August 2021, just $1.7 billion has been disbursed by 37 companies.
Despite this, innovators addressing the racial wealth gap continue to thrive, and they are not waiting around. For example, the Black Innovation Alliance was formed in early 2020 as a coalition of 64 innovation support organizations that serves 300,000 Black business owners, start-up founders, and creative technologists. It creates pathways to economic mobility and financial freedom through technology and entrepreneurship, seeks to sustain 1 million Black innovators. It plans to secure $1 billion in funding by 2030.
The ecosystem at the local level is also thriving. Nikki Porcher's Buy from a Black Woman, one of the key nonprofit players in Atlanta, is closing the racial wealth gap by helping entrepreneurs, who are Black Women, across the U.S. gain the resources and access to funding that are needed in the early stages of entrepreneurship, in order to break the three-year curse of failure. By helping these business owners grow beyond the three-year stage, Porcher is enabling their economic prosperity for the long term to make possible the sustainability of financial well-being across generations.
When the pandemic started and "forced everybody to be still and examine what they wanted to do followed by the killing of George Floyd," Buy From a Black Woman thrived because of its five-year history and multi-pronged offerings, including its business directory of Black Women-owned products and accelerator program, Porcher says.
From idea to execution
Porcher's idea for Buy from a Black Woman started as a blog to highlight businesses and products owned by Black Women. The nonprofit took off when she created the first-of-its-kind grant for Black Women-owned businesses to share what she had learned on how to own and run a business.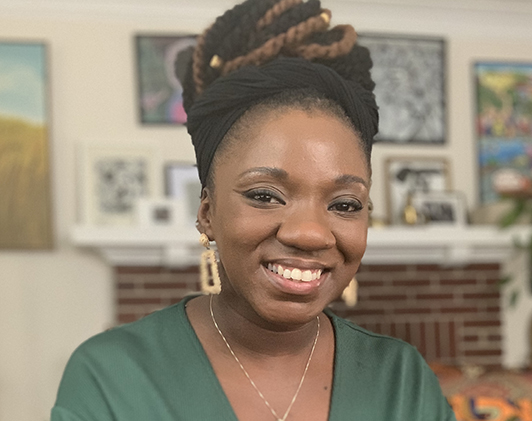 However, it was a side hustle for Porcher during the first 3-plus years from 2016 to early 2020 because she taught high school and middle school students in the visual arts. Eventually, she was able to save up enough money for one-year worth of her expenses, in order to work create the financial runway to work on the business full-time.
Even as a side gig, Porcher continued to expand offerings of Buy from a Black Woman. Knowing that Black Women entrepreneurs are making on average $24,000 annually, Porcher in 2020 launched the six-week accelerator program, which runs twice a year. The program seeks to break the three-year failure curse and ensures that these business owners know how to set up their business legally with the proper accounting and financial systems, as well as how to protect their assets through trademarks and copyrights. More than 50 business owners have graduated from the accelerator program since it started.
To assist Black Women business owners even more, Porcher is now preparing to launch the Black Woman Loan Fund as a way to assist these entrepreneurs in building business credit, personal credit, and provide financial funding in the early stages of their businesses.
Approaching corporate partnerships intentionally
In 2020, Porcher started partnering with corporations to expand her group's impact. After the killing of George Floyd, many corporations approached Porcher about collaboration, but she engaged with caution, using a metaphor of dating to describe it. "When they [the corporations] do come to us, we make sure that they are very intentional about working with Black Women," she says. Indeed, she looks beyond the corporation's financial contribution and asks for access to resources, tools, and the corporates' networks.
Ultimately, she is looking for partnerships with corporations that democratize access to the multi-million dollar funding channels and networks that so many other majority-owned businesses take for granted. Currently, only about one-third of 1% (0.34%) of venture capital funding goes to Black Women.
Beyond money, Black Women business owners need entry to corporate networks to allow them to circumvent the gatekeepers that prevent access to funding channels and mentorship. "We need to remove the gatekeepers in order to hold the corporations accountable to the huge pledges they made to the Black community in 2020," she adds.
Porcher's experience dealing with corporations in the Summer of 2020 is illustrative of the experiences of some other organizations working to advance racial equity. By August 2020, Porcher says "it was radio silence… If I reached out to them right now, I would hear excuses of 'being too busy to respond' or 'no time to complete their budget,'" she explains. However, Porcher is not deterred and instead remains committed to the mission of Buy from a Black Woman.
She urges corporations to remember their pledges from 2020. "Keep your commitment," Porcher advises. "You made this big proclamation, now I'm coming back to you so you can have a chance to redeem yourself."